1937 Canada Dry Ad "Champagne of Ginger Ales" ~ The full dimensions of the advertisement are approximately 11" x 14". This
original
vintage advertisement is in
Very Good Condition
unless otherwise noted.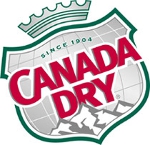 Canada Dry
is a brand of soft drinks marketed by Dr Pepper/Seven Up, a unit of Dr Pepper Snapple Group. Canada Dry is best known for its ginger ale, but also manufactures a number of other soft drinks and mixers. Although Canada Dry originated in its namesake country, Canada, it is now produced in many countries around theglobe, and is very popular in the United States and the Middle East. Canada Dry is marketed as "Schweppes Canada Dry" in the UK and Ireland.
History
In 1890, Canadian pharmacist and chemist John J. McLaughlin of Enniskillen, Ontario opened a carbonated water plant in Toronto. In 1904, he created
Canada Dry Pale Ginger Ale
. When McLaughlin began shipping his product to New York in 1919, it became so popular that he opened a plant in Manhattan shortly thereafter. After J.J.'s death, the company was run briefly by Sam.
P. D. Saylor and Associates
(they bought the business from Sam McLaughlin) and
Canada Dry Ginger Ale, Inc.
was born.
Canada Dry's popularity as a mixer began during Prohibition, when its flavor helped mask the taste of homemadeliquor. In the 1930s, Canada Dry expanded worldwide, and from the 1950s onward, the company introduced a larger number of products. The Chief Chemist from 1940s through 1970s was Franklin M. Gray, from Toronto, Canada. Today, Canada Dry is owned by Dr Pepper Snapple Group, but the ginger ale bottles often bear a map of Canada as part of the beverage's logo.
Retrieved from
Wikipedia
.